Four universes dedicated to vintage, flea market and antiquities. Come and meet the 200 permanent merchants and 400 unpackers and make a stop at one of the 7 restaurants. Conviviality guaranteed !
Last updated date : 02/06/2021
Canceled or closed because of Covid-19.
Les Puces du Canal 5 rue Eugène Pottier - 69100 Villeurbanne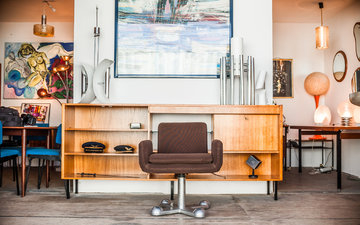 Founded in the last century and located in Villeurbanne along the Canal de Jonage for 25 years, the Puces du Canal are part of a strong legacy of fairs and commercial spaces, of which Lyon is one of the central places in France and Europe.

A real paradise for bargain hunters and old objects lovers, this melting pot of styles and genres made the success of this first market in Auvergne-Rhône-Alpes which holds the second place in France after the Puces de Saint-Ouen in Paris.

An open-air museum built around passionate merchants and a high quality offer.
See more on this top tip in COLLECTOR
Collector's original visuals and voice have made it a big hit in Lyon. It offers locals a different view of their city: more modern, more urban, and even a little offbeat. In just a few years, this guide has become the repertoire of "places to be". It opens doors to somewhat secret worlds – just the way we like them in Lyon.
list Know more about Collector
Useful tips
Openings

---
Canceled or closed because of Covid-19.
Prices

---
Accessibility

---
Accessible for self-propelled wheelchairs
Les Puces du Canal
5 rue Eugène Pottier - 69100 Villeurbanne