Over 4 days, explore a world of flavours and have an unforgettable time – your taste-buds will thank you!
Last updated date : 20/01/2022
From Thursday 9 to Sunday 12 June 2022. Dates to be confirmed.
Lieux divers - 69123 Lyon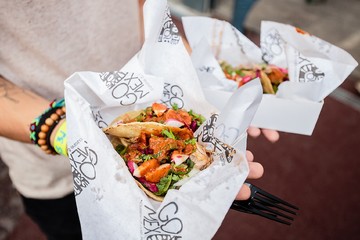 4 days of festivities centred around a unique combination of Food, Culture, Music & Party!
Every year, around one hundred chefs, one hundred staff members, fifteen artists and thousands of festival-goers get ready to party and come together to make the heart of the festival beat!

This festival's goal is to transcend the borders of gastronomy, and to offer its attendees a perfect balance between chefs, that we challenge to leave their comfort zone, and destinations!

The Lyon Street Food Festival is an opportunity to travel the world through Street Food, with no less than four geographical destinations to choose from.
Staged "corners" dedicated to the gastronomy and culture of these four destinations will be set up at the centre of the festival.
Beyond a culinary discovery, this festival also offers a journey into the culture of these destinations, particularly through free workshops. Authenticity and adventure are guaranteed!

"Alcohol abuse is dangerous for your health and should be consumed in moderation."
Useful tips
Openings

---
From Thursday 9 to Sunday 12 June 2022. Dates to be confirmed.
Prices

---
Full price: 8.50 €, Reduced price: 5.50 €.

Free entry for children < 5 years.
Accessibility

---
Accessible for self-propelled wheelchairs
Lieux divers
- 69123 Lyon