The genius of Nicolas Poussin still has a few secrets to reveal. Come to the Musée des Beaux-Arts de Lyon to discover an unknown, charming and seductive Poussin...
Last updated date : 07/10/2022
From 26/11/2022 to 05/03/2023 between 10 am and 6 pm. Closed on Tuesday.
Musée des Beaux-Arts 20 place des Terreaux - 69001 Lyon 1er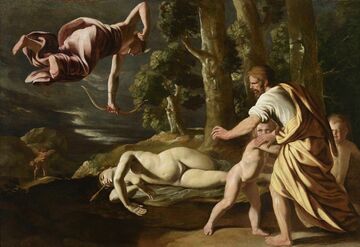 Poussin is the master of the classical French school, an archetypal painter-philosopher. Few people today know that he also gave himself over to the pure pleasure of painting, portraying some of the most sensual iconography, and that some of his paintings were deemed so erotic that they were defaced, cut up, even destroyed, from the 17th century onwards.

Through the theme of Love, which has rarely been so central to an artist's work, the museum aims to reveal this little-known side of Poussin: sensual, charming, seductive.
Poussin became famous for the Titianesque hedonism of his first Roman paintings, where the way Love takes control of men and gods alike is depicted in scenes taken from Ancient Greco-Roman myths.

Love was a recurring theme and a constant source of inspiration for the artist right up until his final masterpieces, pictorial meditations on the wellspring of love's enduring power, as destructive as it is creative.
A far cry from the austere image of the painter-philosopher which he showed to the public, the exhibition reveals a sensual, even erotic Poussin; a painter-poet who offers us a profound exploration of the universal and tragic power of love.
Useful tips
Openings

---
From 26/11/2022 to 05/03/2023 between 10 am and 6 pm.
Closed on Tuesday.
Prices

---
Musée des Beaux-Arts
20 place des Terreaux - 69001 Lyon 1er