Set off to discover the wonders of Egypt through 'L'Horizon de Kheops' (The Horizon of Cheops), an immersive expedition in virtual reality built on the knowledge of eminent Egyptologist Peter Der Manuelian of Harvard University.
Last updated date : 28/04/2023
From 03/11/2022 to 24/12/2023 daily between 2 pm and 8 pm.
Centre commercial Lyon Confluence 112 cours Charlemagne - 69002 Lyon 2ème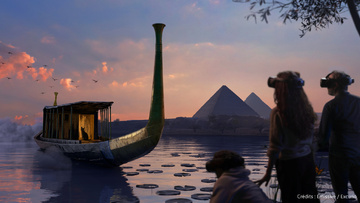 Created using virtual reality, this amazing immersive experience will take you 4500 years back in time. With the contribution of Egyptologist Peter Der Manuelian, visit the Giza Plateau and discover the secrets of the pyramid of Khufu (or Cheops) as if you were really there... Wearing a VR headset, you can freely explore a 1000-square-metre space that offers a fun and educational experience.

The experience leads you to the foot of the Great Pyramid, commissioned by Khufu, the second pharaoh of the Fourth Dynasty of the Old Kingdom, to delve into its secrets. It then takes you right up to the tip of the pyramid, to take in a 360° view of the contemporary city, which is suddenly transformed into an ancient site. This unique immersive experience lasts 45 minutes.

The Horizon of Cheops was born of a meeting between research on the site – carried out in partnership with Egyptologist Peter Der Manuelian and his team at the Giza Archives Project (Harvard University) – and virtual reality.
Useful tips
Openings

---
From 03/11/2022 to 24/12/2023, daily between 2 pm and 8 pm.
Prices

---
Full price: 29.50 €
Reduced price: 24.50 € (Children and teenagers less than 18
- Students (by presenting an valid student card)
- Disabled people at least at 80% (on presentation of a card)
- Holders of a Lyon City Card (on presentation of a card)
- Disabled people companion
- Unemployed people).
Centre commercial Lyon Confluence
112 cours Charlemagne - 69002 Lyon 2ème