Make mine a mini concert!
The Lyon National Orchestra (ONL) regularly gives concerts at lunchtime, just like any good dessert!
Last updated date : 26/09/2022
Don't miss the next Midi l'AO concert at the Auditorium…
Tuck into a salad or a sandwich and for dessert, follow this up with a visit to the Auditorium!
Because there's nothing like getting your teeth into a good concert at lunchtime!
An hour of beautiful, happy music specially selected for you to lift you up and get you going again!
The full orchestra in all its glory performs a number of cheerful, easy listening pieces guaranteed to bring an immediate smile to your face!
Perfect for a welcome change of scenery and a much-needed break, or for getting your afternoon off to a flying start!
And a concert this short is also the perfect opportunity to discover classical music when you're not familiar with it…
Our verdict? Simply excellent!
Can't wait for the next one!
The next concerts will be held at half past noon.
The programme: www.auditorium-lyon.com
Isabelle, our editor born and bred in Lyon! She was born in Sainte-Foy-lès-Lyon in fact, studied in Lyon and now lives here. Territorial? Absolutely not! She loves travelling, widening her horizons, meeting new people and enjoys a change of scenery (without snow, if possible). Isabelle is curious and a people person, two attributes that often go hand in hand! Her favourite colour is green and her motto "a day without laughter is a day wasted!" 
You like it? You might also enjoy...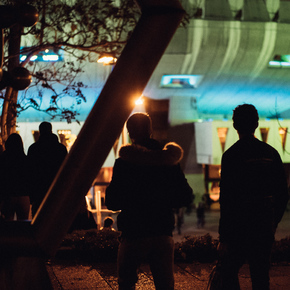 A 2100-seat hall, an orchestra of 104 permanent musicians.