Pour bien finir la semaine
The Auditorium – home of the ONL (Orchestre National de Lyon) – hosts fun and adventurous after-work events on certain Friday evenings, offering treats for the palate and the ears!
Last updated date : 13/02/2020
After-work get-togethers are an opportunity to unwind after a hard day's work or tours and have a chat with your favourite colleagues over a drink before going home.
The Auditorium never ceases to delight us with its fresh approach and has now created its own after-work concept.
The events begin around 6 pm with creative sound workshops, featuring contemporary music trends, or artistic performances. Then, around 7 pm, there is a classical music concert that generally presents a legendary composer.
After-work drinks begin after the concert, ending about 10 pm, with DJs of various styles providing a musical background in this superb space.
If you feel peckish, La Commune – a lively food court from Lyon's 7th district – will be on hand serving up tasty snacks.
You are in good hands to get the weekend started.
Further information and programme of the next After-work at the Auditorium de Lyon
This is Antoine. The only moustache in the office.The fact that he has managed to find a niche in a team exclusively made up of women is proof that he has been good at cultivating the better side of his nature. By that we mean his feminine side…
You like it? You might also enjoy...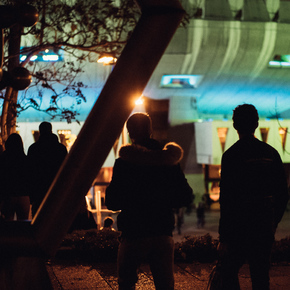 A 2100-seat hall, an orchestra of 104 permanent musicians.