Les Lanternes The latest addition to the èhôtels-Lyon collection is located on Mont-Cindre, in a green estate covering ten acres, offering stunning views. This exceptional establishment puts the focus on well-being. You are invited to be the architect of your event.
Last updated date : 14/03/2023
All year round.
Les Lanternes 82 route du Mont Cindre - 69450 Saint-Cyr-au-Mont-d'Or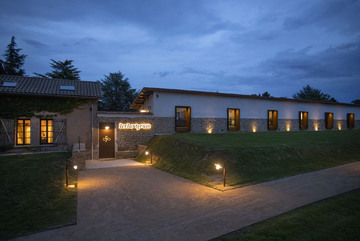 Perched high up on Mont-Cindre, overlooking Lyon, Les Lanternes has been added to èhôtels-Lyon's collection of hotel, events and catering services, joining the restaurant Là-Haut sur la Colline and the Ermitage Hotel Cuisine-à-manger.
This exceptional setting is just 30 minutes from Lyon St-Exupéry Airport, 20 minutes Lyon Part-Dieu railway station and 15 minutes from the Hôtel de Ville (City Hall).

Be the architect of your event in this splendid estate offering ten acres of greenery, which can be privately hired for your stay. Housed in a converted farm boasting stunning views, Les Lanternes has a 40-metre-long events room, with a fully modular layout and facilities.

The estate offers a unique experience, including sports, fun activities and mental workouts. You can free your mind with a yoga session, get some fresh air on the hiking trails, discover the cabornes (dry-stone huts that are typical of the Monts d'Or region) of Mont-Cindre, try out a digital detox, or nurture your creativity by the fireplace. All of these opportunities and more are provided for people to come together in a different way, far from the bustle of the city, in order to open your thoughts to new perspectives.
Useful tips
Openings

---
Accessibility

---
Accessible for wheelchairs with assistance
Les Lanternes
82 route du Mont Cindre - 69450 Saint-Cyr-au-Mont-d'Or