Are you organizing a seminar, training, conference ... and you want to be at the foot of the Part-Dieu station? At your disposal, Spaces Part-Dieu, fully modular and equipped.
Last updated date : 07/05/2022
From 01/01 to 31/12/2022.
Espaces Part-Dieu 2 place de Francfort Le Terra Mundi - 69003 Lyon 3ème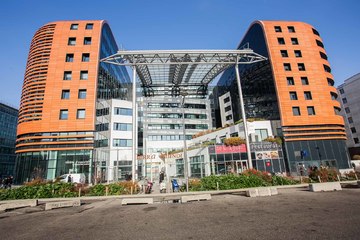 Our spaces are at 2 min. walk from all type of transportation, especially the quays of the trainstation!
It is in the district of La Part-Dieu converge large mobility flows at European and regional (TGV / TER connection with the Lyon-Saint Exupéry Airport by Rhônexpress), Metropolitan (pole exchange of public transport) and local (heart of the Left Bank). Second business district in France with nearly one million square meters, the Part-Dieu is a central point in the economy of Lyon, priority and place the front door of the investments of the city.
Our Spaces Part-Dieu offer customized service. You have a video projector, a whiteboard, a screen, a sound system ... The furniture is available and installed according to the configuration of your choice. Internet access is free on request. We offer breakfast breaks, snacks, catering services and all you can imagine, meal cocktail shelf, through a lunch served at the table and sat. A self-service restaurant also allow you to lunch in a different place, located on the ground floor of the building. The rooms each have a terrace, perfect for a break in the sun in the middle of a studious day!
In Spaces Part-Dieu, all combine to make your working day goes perfectly!
Useful tips
Openings

---
From 01/01 to 31/12/2022.
Accessibility

---
Accessible for self-propelled wheelchairs
Espaces Part-Dieu
2 place de Francfort Le Terra Mundi - 69003 Lyon 3ème