A century-old store where you'll find flags, badges, fridge magnets and souvenirs of Lyon. Brands include: Monnaie de Paris, Opinel, Laguiole en Aubrac, Victorinox and Zippo, etc.
Last updated date : 29/04/2021
Open from Tue. to Sat.: 9 AM-noon and 2 PM-7 PM. Closed on bank holidays.
Fontanel 8 place des Jacobins - 69002 Lyon 2ème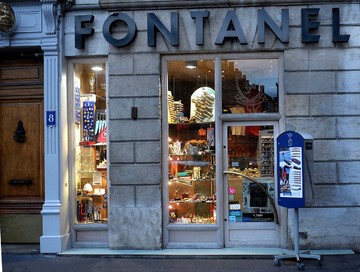 Firmly anchored in the Place des Jacobins, Fontanel has been well-established in Lyon for over 100 years. You'll surprise yourself by lingering over and admiring the slightest object, from the legendary Zippo lighter to regional or professional knives and other essential Laguiole products, made in Laguiole itself! Collector thimbles, souvenirs of Lyon and fridge magnets, book marks: so many gifts that are sure to delight their recipients or serve as a reminder of your trip to Lyon, between the rivers Rhône and Saône. Traditional badges, key rings, flags, T-shirts bearing the effigy of Lyon sit alongside silk products, such as the medal made in honour of the World's Capital of Gastronomy by the MOF (Best Craftsman of France) sculptor Nicolas Salagnac. Fontanel is the official distributor of such brands as the French Coin Mint, OPINEL, VICTORINOX, KYOCERA, LAGUIOLE EN AUBRAC, LEATHERMAN, WENGER AND ZIPPO.
Useful tips
Openings

---
Open from Tue. to Sat.: 9 AM-noon and 2 PM-7 PM. Closed on bank holidays.
Fontanel
8 place des Jacobins - 69002 Lyon 2ème