You can spend hours at Hyppairs! Small decorative objects found during a trip, beautiful fashion items that you won't find anywhere else and records that pack a punch!
Last updated date : 24/03/2021
Open Mon.: 2 PM-7 PM and from Tue. to Sat.: 11 AM-7 PM. Closed on bank holidays.
Hyppairs 3 place Sathonay - 69001 Lyon 1er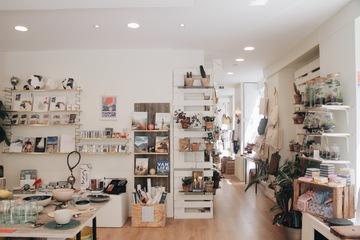 Hyppairs – The "destination store" that takes you on a trip.

Hyppairs is the concept that was missing in the pretty Place Sathonay, dear to residents of Lyon in search of greenery and a village square atmosphere! When you enter Hyppairs, you'll be pleasantly surprised by the light and the attractive decor of the shop in wood, brass and painted white.

Here, the layout is similar to that of a flat, where we promote discovery as you wander through the created environments; starting with small decorative objects, make your way towards the fashion and accessories area… Then, after the pretty planted wall, discover the great selection of rock, rap and alternative records.
See more on this top tip in COLLECTOR
Collector's original visuals and voice have made it a big hit in Lyon. It offers locals a different view of their city: more modern, more urban, and even a little offbeat. In just a few years, this guide has become the repertoire of "places to be". It opens doors to somewhat secret worlds – just the way we like them in Lyon.
list Know more about Collector
Useful tips
Openings

---
Open Mon.: 2 PM-7 PM and from Tue. to Sat.: 11 AM-7 PM. Closed on bank holidays.
Accessibility

---
Accessible for self-propelled wheelchairs
Hyppairs
3 place Sathonay - 69001 Lyon 1er