Made in Lyon, "La Tribu des Gones" is the favourite brand of all native or adoptive Lyonnais. The shop proposes 100% Lyonnais designs and products including: T-shirts, apron and babies' body suits. A wide choice of excellent souvenir gifts awaits you.
Last updated date : 15/09/2021
Open daily: 11 AM-7 PM. Closed on Jan. 1st and Dec. 25th.
Tribu des Gones 22 rue Saint-Jean - 69005 Lyon 5ème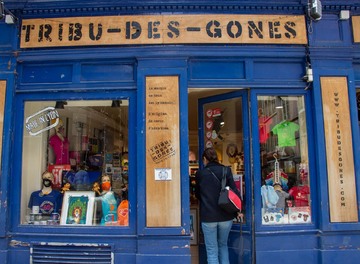 The "Tribu des gones" store located in the heart of the old part of Lyon sells T-shirts, aprons, winter hats, caps, pots lyonnais (1), badges, magnets and other small accessories with very humorous, original and colourful graphics depicting Lyon: popular heritage, the "pleasant wisdom of the Lyonnais" and the words Guignol (2) is fond of repeating have been updated in a collection that is sure to delight young and old alike. For 5 years we have been creating models that are as practical as they are fashionable for babies, children, women and men. An essential store for all your gifts all year round (births, birthdays, Christmas, etc...) We are intent on making sure that manufacture, graphics, serigraphy, labelling and packaging are all carried out in Lyon and seeing as you can't all live in Lyon, you can at least buy online on www.tribudesgones.com
(1): Popular French glove puppet
(2): 46 cl bottle with a thick bottom used in "bouchons" in Lyon
Useful tips
Openings

---
Open daily: 11 AM-7 PM. Closed on Jan. 1st and Dec. 25th.
Accessibility

---
Accessible for self-propelled wheelchairs
Tribu des Gones
22 rue Saint-Jean - 69005 Lyon 5ème