A workshop and store shared by five designers with plenty of ideas who present their jewellery, accessories, decorative items and paintings. All designer items displayed in the shop are manufactured on-site.
Last updated date : 21/07/2021
Open from Mon. to Sat.: 11 AM-7 PM. In Dec.: from Mon. to Sat.: 10 AM-7:30 PM and on Sun.: 11 AM-6 PM.
lafabriq 106 montée de la Grande Côte - 69001 Lyon 1er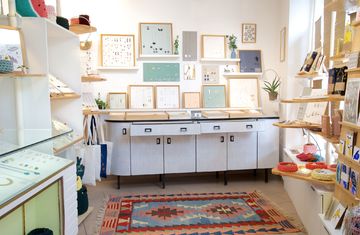 As soon as you walk through the doors of lafabriq, you can see the creative process at work.
All objects here are made on-site, by hand.

Lafabriq's workshop is visible from the sales area. Five young creators make and sell their products.
In a friendly and welcoming atmosphere, they have developed their craft of jewellery, accessories and other items.
Noémie, who works under the brand Hirn&Herz, creates a range of brass and silver jewellery full of humour and subtlety.
Anne-Lise produces both paintings and jewellery with bright colours.
Laurène explores areas well off the beaten track, with the aim of creating beauty with unremarkable or unattractive objects.
Pascaline, working under the brand Honey&Milk, creates hand-knitted decorative items, accessories and jewellery.
Julia creates objects featuring drawings on a variety of materials, including original framed drawings, tote bags and stationery.

In addition to their personal production, each creator can make personalised items to order.
See more on this top tip in COLLECTOR
Collector's original visuals and voice have made it a big hit in Lyon. It offers locals a different view of their city: more modern, more urban, and even a little offbeat. In just a few years, this guide has become the repertoire of "places to be". It opens doors to somewhat secret worlds – just the way we like them in Lyon.
list Know more about Collector
Useful tips
Openings

---
Open from Mon. to Sat.: 11 AM-7 PM. In Dec.: from Mon. to Sat.: 10 AM-7:30 PM and on Sun.: 11 AM-6 PM.
lafabriq
106 montée de la Grande Côte - 69001 Lyon 1er