Discover the shop Weiss and dive into the dreamy world of chocolate ... An invitation to gluttony irresistibly!
Last updated date : 17/06/2021
Open Mon.: 2 PM-7 PM and from Tue. to Sat.: 10 AM-7 PM. Closed on bank holidays.
Weiss Chocolat 50 rue de Brest - 69002 Lyon 2ème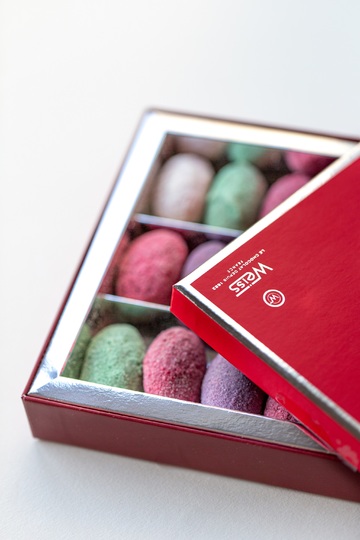 The story begins in 1882, when creator and trail-blazer Eugène Weiss discovered the art of making praline and combining cocoa beans. This young confectioner from Alsace went on to open his first store in Saint-Etienne, which is famous for its chocolate, and invented Haut Chocolat®.
Over the years, Weiss has lost nothing of its traditional expertise, expressing its ongoing passion through its chocolates, nougatines and confectionery. Its sense of detail, typical French elegance and daring extravagance have made Weiss a reference among professionals and gourmet consumers worldwide, and a tireless innovator for the sole delight of its customers.
Weiss is attracted to all things beautiful, and its five stores are an invitation to yield to temptation in truly elegant and refined settings. This aesthetic sense is also found at the Grande Epicerie, Galeries Lafayette Gourmet and its online store.
Prolong the experience at the Weiss Workshops in Saint-Etienne. A unique encounter with chocolate, culture and gastronomy, with temporary and permanent exhibitions, a catering area and a bustling store. Cross the threshold of our workshops to share the Haut Chocolat® experience with us!
Useful tips
Openings

---
Open Mon.: 2 PM-7 PM and from Tue. to Sat.: 10 AM-7 PM. Closed on bank holidays.
Accessibility

---
Accessible for self-propelled wheelchairs
Weiss Chocolat
50 rue de Brest - 69002 Lyon 2ème