A new journey to experience food from Dijon to Marseille via Lyon
An inviting and authentic gourmet experience: this is the Valley of Gastronomy in a nutshell. Stretching from Dijon to Marseille via Lyon, this culinary voyage was initiated by the regions of Bourgogne Franche-Comté, Auvergne Rhône-Alpes and Provence-Alpes-Côte d'Azur, which came together with the aim of creating a common point of reference for their gastronomic excellence.
What is the Valley of Gastronomy?
Driven by their passion for a special art of living and know-how, the regions aim to bring together their many food professionals, including artisans, farmers, winegrowers, restaurant owners and more. The Valley of Gastronomy remains a project on a human scale, with its 'gourmet offerings' and 'remarkable experiences', which take you to the heart of this shared passion and love of food.
With numerous partners in various food industries, it offers a chance to discover professions, production processes and, of course, new products. There are a diverse range of activities and many flavours to be discovered, through classes, walks and workshops.
Lyon, a key stage on this journey
The city of Lyon lies in the centre of the valley. Halfway between Dijon and Marseille, the world capital of gastronomy is the key stage on this journey, with a deep involvement in the project. With many partners and events, it offers a chance to understand and appreciate all the richness of Lyon's food heritage. To discover the city's flavours, the Valley of Gastronomy offers unique experiences with the most renowned restaurants. While L'Auberge du Pont de Collonges, Paul Bocuse's famous restaurant, immediately springs to mind, other restaurants with talented chefs can be discovered.
The aim of the Valley of Gastronomy is to offer "remarkable experiences", such as the secrets of Lyon's pâté en croûte with chef Joseph Viola. In the kitchens of the restaurant Daniel et Denise, the 'Pâté en Croûte World Champion' will be delighted to present to you this iconic part of Lyon's gastronomic tradition. You can also explore the many other flavours of the capital of gastronomy, with its famous bouchons and bistros. Once again, pride of place will be given to authenticity and local produce, with gourmet dishes prepared by passionate professionals.
Les expériences remarquables lyonnaises
Quand gastronomie rime avec émotions, immersion, transmission des savoirs, personnalisation, délice des sens, et rencontres internationales, on vit une expérience remarquable !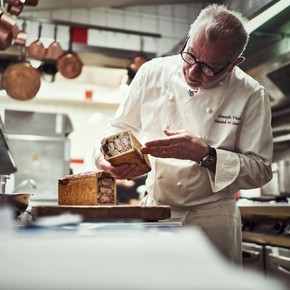 Joseph Viola is the chef behind the re-appearance of 'pâté en croute' in restaurants.
So now it's possible to learn how to cook French food, in English, with an American teacher!
21 matches
---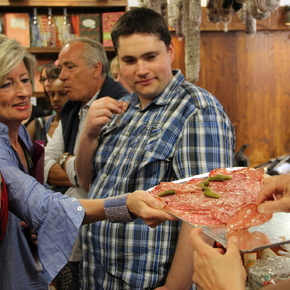 Sortie du métro Vieux-Lyon
When gastronomy become an art-de-vivre...