The team would like to offer a new type of dining experience in France: a gastronomic establishment with high-end, 100% vegetarian menus, served in a stylish and cosy setting.
Last updated date : 11/08/2021
Open from Tue. to Sat.: 12 PM-1:15 PM and 7 PM-9 PM. Closed on Jan. 1st and Dec. 25th.
Culina Hortus 38 rue de l'Arbre Sec - 69001 Lyon 1er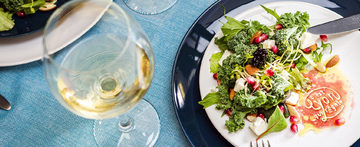 The menu, which is updated every week for lunch and every month for dinner, features generous, gastronomic dishes, made with only vegetables, cereals, fruit, eggs and dairy products.
Our carefully sourced ingredients are of exceptional quality and are mainly organic and local: the only French quinoa, from Anjou, produced by Mrs Abbott; citrus fruits from around the world produced in France by Mr Bachès, who is a regular supplier of Michelin-starred restaurants; single-varietal olive oils produced by Alexis Munoz; hazelnut, hemp and prune oil produced by Mrs Barrere; figs produced by Mr Baud; flowers and micro-herbs, herbs and wild plants produced by Mrs Bolmont; cheeses from Mons (MOF) and Bordier butter, which will be served at the table.
The establishment also offers natural biodynamic wines, with a dozen wines by the glass, organic lemonades, whole-plant teas and herbal teas, and a collection of spirits for connoisseurs.
See more on this top tip in COLLECTOR
Collector's original visuals and voice have made it a big hit in Lyon. It offers locals a different view of their city: more modern, more urban, and even a little offbeat. In just a few years, this guide has become the repertoire of "places to be". It opens doors to somewhat secret worlds – just the way we like them in Lyon.
list Know more about Collector
Useful tips
Equipments

---
Services

---
Openings

---
Open from Tue. to Sat.: 12 PM-1:15 PM and 7 PM-9 PM. Closed on Jan. 1st and Dec. 25th.
Spoken languages

---
Accessibility

---
Accessible for wheelchairs with assistance
Accessible for self-propelled wheelchairs
Culina Hortus
38 rue de l'Arbre Sec - 69001 Lyon 1er