La Maison du Chamarier
A gem of fifteenth-century architecture in Vieux-Lyon (Old Lyon), the Maison du Chamarier boasts a remarkable courtyard that features elements of both the Gothic and Renaissance styles.
Last updated date : 07/06/2019
La Maison du Chamarier
37 rue Saint Jean - 69005 Lyon 5ème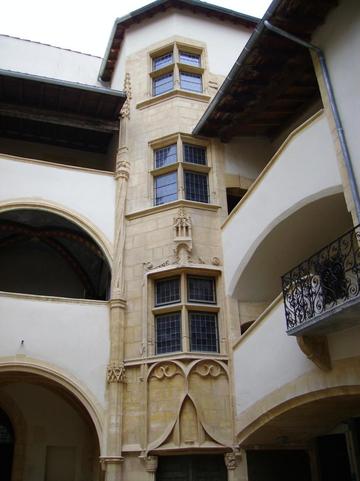 At the time, the house was located in the cloister of Saint-Jean, by the north entrance. It stood against a wall, which was later demolished and where Rue de la Bombarde now lies. The oldest parts of the house date back to the thirteenth century. From 1496 to 1516, major works were carried out for the canon and count François d'Estaing.
The 'Chamarier' was in charge of security, justice and highways. He commanded twelve watchmen. He managed the cloister and held the keys of the six gates of the town's fortifications. He also collected taxes during fairs.
The magnificence of the house, facade and interiors reflects the owner's high social standing.
This house is an example of the transition between the Flamboyant Gothic and Renaissance styles. In the inner courtyard, a gallery with Italianate frescoes and a spiral stairway sculpted with Gothic patterns can be admired. The fountain and Renaissance well are attributed to local architect Philibert Delorme.

Listed as a historical monument on the 15th of September 1943, it has remained unoccupied since 1987. Only the patisserie La Marquise occupies the ground floor. Major restoration works were begun in 2004 to return it to its original state.
La Maison du Chamarier
37 rue Saint Jean - 69005 Lyon 5ème