This 1,200 m² trompe-l'oeil painted wall shows the atmosphere and life of the quarter, typical of the Croix-Rousse plateau, its houses and stairs, with a puppet theatre on the ground-floor.
Last updated date : 13/01/2023
Canut wall painting Angle bd des Canuts et rue Denfert Rochereau - 69004 Lyon 4ème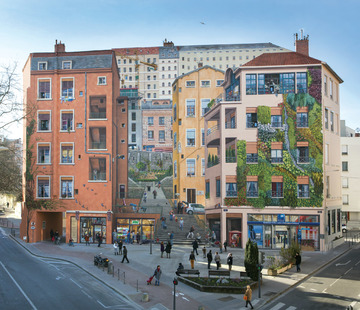 Created by the Cité de la Création in 1987, this painted wall, which extends over a blind façade of 1200 m², is the largest in Europe. Updated for the first time in 1997, it regularly takes into account neighborhood transformations. The inhabitants represented on this facade are also aged. So, a young man who was carrying his bike was represented young dad in 1997, with his granddaughter. Renovated and updated in 2013, it shows a lively neighborhood, between history and modernity.

This evolving painted wall represents the district of Croix-Rousse, district of "Canuts", workers working silk in the 19th century. There are typical buildings of the neighborhoods with their high windows and ceilings 4m high to accommodate the looms. Several winks to the Lyon culture are also present, such as a small theater Guignol or Velo'v, bikes Lyonnais self-service.

A central staircase makes it possible to climb the hill between the high buildings of the district and gives the whole a striking impression of depth.
Canut wall painting
Angle bd des Canuts et rue Denfert Rochereau - 69004 Lyon 4ème