The southern tip of Lyon's central peninsula, long devoted to manufacturing and transport, is the focus of an unprecedented project of urban renewal. Reclaimed from the waters in centuries past, this riverside site is re-embracing its banks and natural environment. The redevelopment is gradually highlighting an outstanding location and unique landscapes.
Last updated date : 21/10/2022
The Confluence district Quartier entre la gare de Perrache et le confluent - 69002 Lyon 2ème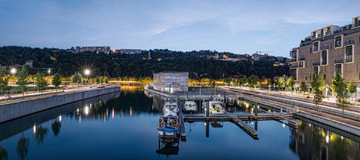 Since 1771, work has been imagined in the area that would expand the city of Lyon further than the district of Ainay. After the architect died, these works were not carried out until 1841. Since the 2000s, the area was the focus of expanding the city centre. This was carried out by adding apartments, businesses and activities. Museum was opened in 2014.
The Confluence district
Quartier entre la gare de Perrache et le confluent - 69002 Lyon 2ème