With its antiquity-inspired design, it's one of the oldest stadiums in France, built by Tony Garnier in 1919 and refurnished in 1998 for the World Football Cup. It's now the home of the Lyon rugbyteam headquarter.
Last updated date : 21/12/2022
Matmut Stadium de Gerland 353 avenue Tony Garnier - 69007 Lyon 7ème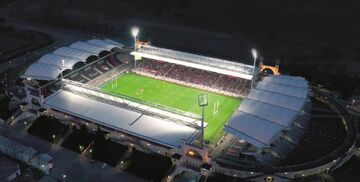 For the 1998 Football World Cup, the team of architects Agibat-Constantin restructured the two ends of the stadium which were covered with a textile canvas. The stadium has 43,051 seats. Two large bronze lion statues stand on either side of the main entrance. They originally stood on Pont la Feuillée and were recovered from the river Saône after the bridge was bombarded in 1945. Mayor Louis Pradel saved them from the smelter and had them placed at the stadium in 1964.
Matmut Stadium de Gerland
353 avenue Tony Garnier - 69007 Lyon 7ème