This district resultes from the strong political determination of mayor Lazare Goujon, along the lines of modernist utopia, but also from the americain dream of architect Môrice Leroux.
Last updated date : 08/10/2021
Le Quartier des Gratte-Ciel Avenue Henri Barbusse - 69100 Villeurbanne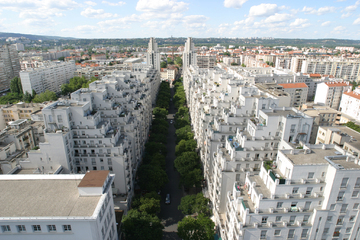 Planned around social housing, it consists of 1450 accomodation units, public services (Hôtel de Ville, Palais du Travail, community health centre, urban heating system) and shops. Symbolically, this project began right at the heart of the city, in the France of the mid-World- War period (1924-1934) when major house-building programmes still remained the exception rather than the rule.
Le Quartier des Gratte-Ciel
Avenue Henri Barbusse - 69100 Villeurbanne