The "Cite International" was realized from 1992 till 1999 by the architect Renzo PIANO and the landscape painter Michel CORAJOUD. It includes centres of Congress, casino, hotels and places of residence, restaurants, cinemas, etc.
Last updated date : 20/08/2019
Cité Internationale 15 quai Charles de Gaulle - 69006 Lyon 6ème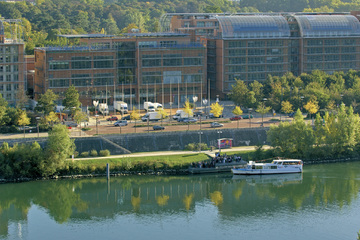 Art plays an important role here. From François Morellets blue diodes, to Xavier Veilhans big statues, including a bear, a big penguin, young girl with rollerblades, pizza delivery man, a man on the telephone, two penguins - the characters you're very likely to meet in the street, and those there is a very slim chance of bumping into! These statues, known as the 'inhabitants', are up to 8.2m high. The Cité Internationale is made up of the congress centre (1995), Amphitheatre (2006) UGC Cinema (1997) Marriott Hotel with 204 rooms, Crowne Plaza Lyon – Cité Internationale Hotel : 156 rooms, Temporim Residence (2008), 'Le Pharaon' Casino (2000), Amphitheatres Room 3000 (2006). Renzo Piano also created Beaubourg, the Pompidou Centre in Paris. The Italian architect was born the 14th September 1937 in Genes. Today he has offices in Genes, Paris and Berlin where he lives.
Cité Internationale
15 quai Charles de Gaulle - 69006 Lyon 6ème