Fresque de Shanghai
This mural, painted by the Cité Idéale Chinoise was added in 2006 on the junction between Boulevard and Rue Villon. Shi Qiren from Shanghai was selected as the painter, but 5 other Chinese artists are also represented.
Last updated date : 13/01/2021
Fresque de Shanghai
23 boulevard des Etats-Unis - 69008 Lyon 8ème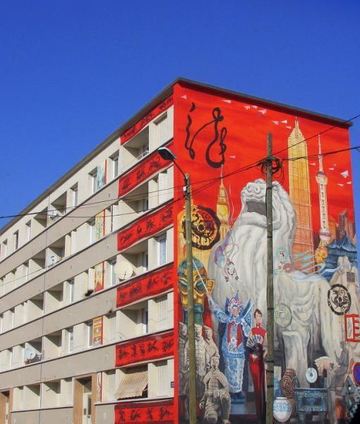 The most beautiful section is on the corner of Rue Villon, where we can see a large lion sitting above all some current and ancient Chinese symbols: statues from the Qin dynasty, the Forbidden City, among others.
On the corner of the Boulevard des Etats-Unis, the balconies are also decorated with dragons and other traditional Chinese images.
The mural was painted by the Cité de la Création.
Fresque de Shanghai
23 boulevard des Etats-Unis - 69008 Lyon 8ème