The fort was built between 1830 and 1834. The building, made from Couzon stone, includes an entrance with an observation bunker from 1847, prison cells and a large corridor leading to a central courtyard overlooking Lyon. Exhibition and conference venue.
Last updated date : 16/06/2021
Open during exhibitions. See the programme on the website. Closed on Jan. 1st and Dec. 25th.
Fort de Vaise 27 boulevard Antoine de Saint Exupéry - 69009 Lyon 9ème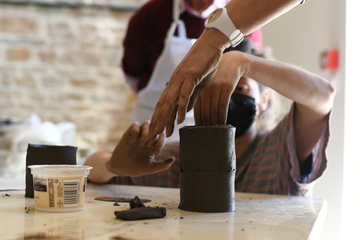 Visitors will find a collection of significant works from the era from artists such as Henri Ughetto, Marie-Thérèse Bourrat, Geneviève Böhmer and Sonny Meyer. These artists interpret their vision of the world through their use of various media. The unprecedented exhibition counters the curse of Lyon's artistic landscape which sees its pioneers forgotten by time.
Established in 1994 and of official public interest, the Renaud Foundation unites
the collections of Lyon's Renaud family, who in addition to being architects are also art enthusiasts and patrons.
It brings together 8,000 pieces of art, primarily by Lyon painters from the 19th and 20th centuries such as Adolphe Appian, Jean Couty, Joannès Veimberg, Favrène, Evaristo, Alice Gaillard and Thérèse Contestin.
It also owns several heritage sites including the renovated Fort de Vaise in Lyon, the Petit Perron in Pierre-Bénit and the Château de Serrières in Trept.
The Renaud Foundation opens its collections and sites to the public, organising temporary exhibitions and conferences on Lyon artists and participating in various cultural events: European Heritage Days, Contemporary Art Biennale, etc. In accordance with the wishes of its founders, it also supports contemporary art, holding residencies for artists.
Useful tips
Openings

---
Open during exhibitions. See the programme on the website. Closed on Jan. 1st and Dec. 25th.
Accessibility

---
Accessible for wheelchairs with assistance
Fort de Vaise
27 boulevard Antoine de Saint Exupéry - 69009 Lyon 9ème