aaa
Optical illusion on the hospital wall of Saint Jean de Dieu, painted during July 1998 for the 500th anniversary of the birth of Jean Cicade (Saint Jean de Dieu), Portuguese priest (1495-155), founder of the Order of Brother Hospitallers.
Last updated date : 13/01/2021
aaa
Hôpital Saint Jean de Dieu 290 route de Vienne - 69008 Lyon 8ème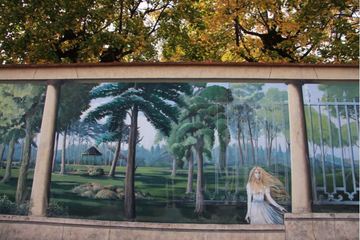 This mural, 600m long with an area of 300m2, was painted by Georges Faure (French), Ana Rosal (Spanish) and Viuva Lamego (Portuguese).
It is composed of windows (one of them with Paul de Magalon (1784-1859) – who founded the hospital in 1824) and arches giving a view onto a wooded garden.
On the left part of the wall a painting, "La Leçon de Psychiatrie", represents 8 great psychiatrists and psychoanalysts : Jean-Martin Charcot (1825-1893), Philippe Pinel (1745-1826), Jacques Lacan (1901-1981), Mélanie Klein (1882-1960), Sigmund Freud (1856-1939), Jean Etienne Esquirol (1772-1840), Carl Gustav Jung (1875-1961), Gaëtan Gatian de Clerambault (1872-1934).
aaa
Hôpital Saint Jean de Dieu 290 route de Vienne - 69008 Lyon 8ème