Lyon makes a new tribute to its gastronomy and its iconic leader, Paul Bocuse in front of the covered market of Lyon.
Last updated date : 05/02/2018
Fresque des lumières en hommage à Paul Bocuse
Face aux Halles Paul Bocuse 103 cours Lafayette - 69003 Lyon 3ème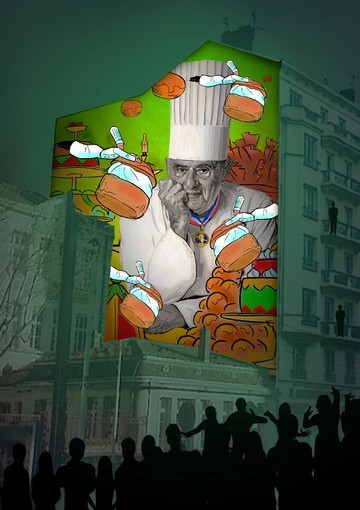 Inaugurated in 2015 to celebrate 50 years of the 3 stars Michelin Paul Bocuse, this mural is a tribute to the excellence of the gastronomy of Lyon through the emblematic figure of Sir Paul.

The mural depicting the history of Lyon gastronomy and Paul Bocuse.
Gilbert,Coudène, founder of CitéCréation, has initiated this project called "Thank You Mr. Paul." The mural presents some key moments in the life of Lyon chef, his American and Japanese successes or the evolution of its famous breweries.
Fresque des lumières en hommage à Paul Bocuse
Face aux Halles Paul Bocuse 103 cours Lafayette - 69003 Lyon 3ème