Oh, and by the way… how did it start?
In the beginning, the Illuminations were first held on the 8th December...
Last updated date : 13/02/2023
The origins of the Fête des Lumières go back to the inauguration of the gilded statue of the Virgin Mary on Fourvière. The inauguration was initially scheduled to take place on the 8th of September 1852, but was delayed until the 8th of December when the Saône broke its banks and flooded the workshop of the sculptor Joseph-Hugues Fabisch.
When the big day arrived, heavy rains threatened the planned illuminations, but as evening came the skies cleared and the locals spontaneously placed small lanterns (known as 'lumignons') on their window sills – the 'Fête des Illuminations' was born!
This tradition has lived on and every 8th of December, the people of Lyon light up their windows and take to the streets to admire their beautifully lit city.
In 1999, the 8th of December became the 'Fête des Lumières' that we know and love. It now lasts for four days and attracts visitors from all over the world.
Isabelle, our editor born and bred in Lyon! She was born in Sainte-Foy-lès-Lyon in fact, studied in Lyon and now lives here. Territorial? Absolutely not! She loves travelling, widening her horizons, meeting new people and enjoys a change of scenery (without snow, if possible). Isabelle is curious and a people person, two attributes that often go hand in hand! Her favourite colour is green and her motto "a day without laughter is a day wasted!" 
You like it? You might also enjoy...
To really make the most of the Fête des Lumières, prepare your tour!
To help you remember, or to encourage you to come back next year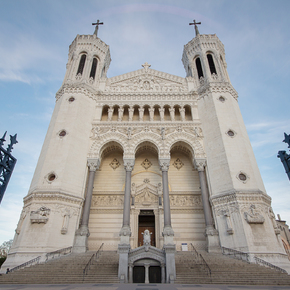 Fourvière Basilica is an iconic building that overlooks the whole of Lyon. A "Marian fortress" on the outside, the inside is richly decorated with...