Caluire-et-Cuire, a subterannean wonder
Follow the first path of the water!
Last updated date : 10/03/2023
On reservation only.
Devant l'usine des Eaux (portail vert)
2 avenue de Poumeyrol - 69300 Caluire-et-Cuire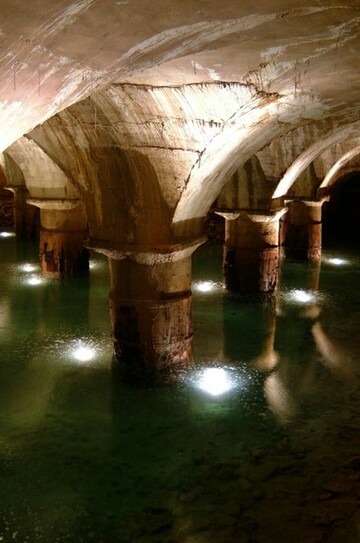 Few know of this treasure: yet it is a marvel underground: l'Ancienne Usine des Eaux (the old water plant) which until 1976 was used to supply the city of Lyon with drinking water.

And that's saying something when you realise, with our two hills, all the ingenuity it took to meet the needs of Lyonnaise people.
After a slide show of the brief history of water from 43 BC, you will discover the famous and impressive Cornish steam pump, 20m high which is a historical monument within itself.

The tour does not stop there: it's down a narrow staircase that unfolds an amazing and beautiful pool filter.
The atmosphere it creates is magical and peaceful, and the tour ends with a flourish.

Duration of the visit : 2h. Please ensure you arrive 10 minutes before the tour commences.
Useful tips
Openings

---
Prices

---
Adult: 19 €, Child: 8 €, Student: 8 €.

Devant l'usine des Eaux (portail vert)
2 avenue de Poumeyrol - 69300 Caluire-et-Cuire