Explore the hill and its slopes.
Last updated date : 09/06/2023
All year round daily except on January 1st and December 25th. By reservation.
à la sortie du métro Croix-Rousse place de la Croix-Rousse - 69004 Lyon 4ème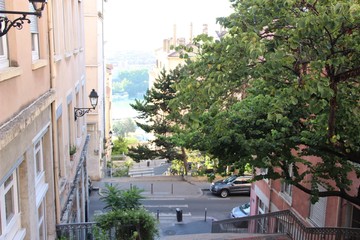 Take a bambane ('stroll' or 'walk' in the local dialect) from the top of Croix-Rousse hill to the bottom of its slopes (known as 'Les Pentes'). The history of this district is closely tied with that of silk, but that's not all, as you will find out …

Along the way, you will discover original places and viewpoints, as well as some little-known spots. The Croix-Rousse is famous locally for its market and village atmosphere, as well as the history of the Canuts (silk workers) and their revolts. However, people have lived on the hill and its slopes since Antiquity, a fact that the Roman Amphitheatre of the Three Gauls (Amphithéâtre des Trois Gaules) bears witness to. Also, before the French Revolution, a number of religious congregations owned vast rural properties here, of which there are some beautiful remains, such as Saint-Bruno-lès-Chartreux, as well as some parks and gardens that are sometimes hidden from view…

As you make your way through the narrow streets, take in the magnificent views of Lyon from the hill, learn what Le Gros Caillou and La Ficelle are, and explore this authentic, calm and peaceful part of Lyon, where past and present come together, and many hidden treasures lie waiting to be discovered.
The tour ends at Les Halles de la Martinière, an indoor food market that has recently been renovated with a green approach, where you can taste some of the artisanal produce on offer.
Useful tips
Openings

---
All year round, daily except on January 1st and December 25th.
By reservation.
Prices

---
Reduced price: 8 €, Adult: 13 €.

Free entry for children < 8 years.

Free with the Lyon City Card.
à la sortie du métro Croix-Rousse
place de la Croix-Rousse - 69004 Lyon 4ème