International creative research laboratory to new artistic language of the performing arts (dance, theater, circus, music), the transdisciplinary Subsistances are a place of work, creation, experimentation and dialogue with publics.
Last updated date : 05/11/2020
Ticket office from Tue. to Fri.: 12:30 pm-6:30 pm and before shows on Mon. and Sat.
Les Subsistances 8 bis quai Saint Vincent - 69001 Lyon 1er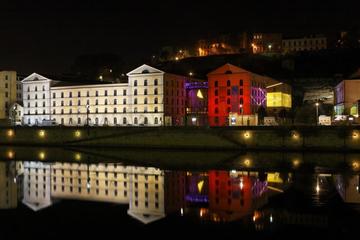 Artists, they offer a place, a time of residence ...
and intellectual support, administrative, technical and financial suited to each project. The Subsistances develop companion relationship with the invited artists and companies, the collaboration extends beyond the presentation of the show in support for dissemination.

Singular artistic projects:
Festival Instructions, Playground, Creative Weekend, The Subsistances invent singular artistic projects.

In public, they offer a place and a time of artistic sharing by developing new relationships with audiences.
They promote confrontation, reflection, artistic practice and dialogue, inventing new forms of meetings involving the public at every stage of creation: projects, debates, participatory projects, creating Weekends, artistic workshops.

Businesses, a place projects.
An artist traffic network.
The Subsistances are part of several national or international networks in the field of performance or circus (circus Territories).
See more on this top tip in COLLECTOR
Collector's original visuals and voice have made it a big hit in Lyon. It offers locals a different view of their city: more modern, more urban, and even a little offbeat. In just a few years, this guide has become the repertoire of "places to be". It opens doors to somewhat secret worlds – just the way we like them in Lyon.
list Know more about Collector
Useful tips
Openings

---
Ticket office from Tue. to Fri.: 12:30 pm-6:30 pm and before shows on Mon. and Sat.
Accessibility

---
Hearing disability
Mental disability
Accessible for self-propelled wheelchairs
Les Subsistances
8 bis quai Saint Vincent - 69001 Lyon 1er