The Lesbre-Tagand museum, named for its creators, is in the National Veterinary School, now known VetAgro Sup - Campus Veterinary Lyon.
Last updated date : 17/07/2021
Musée d'Histoire de l'Enseignement Vétérinaire de Lyon 1 avenue Bourgelat - 69280 Marcy-l'Étoile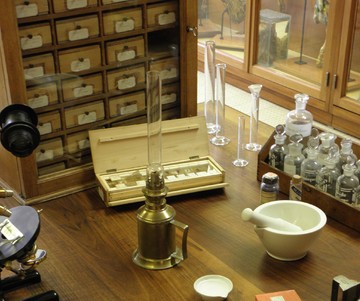 The museum is located on the second floor of the anatomy department in two rooms that were originally used for students' practical work. The entrance to the museum is through a large hall with a display of the skeletons of numerous species:
The first room specialises in presentations of the skeletons of slightly "exotic" animals. There are a dozen or so large skeletons (including a wart hog, a tapir, a zebra, a gnu and a kangaroo). A large display case is filled with skeletons of a wide range of birds and snakes (including a 7 metre long anaconda).
The second, much larger room, is also lined with display cases around three central elements, with a very wide range of species and teratological presentations.

The school is a higher education establishment for veterinary doctors. The first veterinary school in the world was created by an inhabitant of Lyon, Claude Bourgelat (1712-1779), in Lyon in 1761 in La Guillotière, on the site of a former inn, the Logis de l'Abondance, that had been demolished. It moved to the Quai Chauveau in 1795 to the old Couvent des Deux Amants, the site of the current Conservatory of Music, and in 1977 to Marcy l'Etoile.
It is also a veterinary university-hospital centre that is open to the public.
Useful tips
Prices

---
Adult: 5 €
Child: 3 € til 18 years
Student: 3 €.
Free entry for children < 12 years.
Group rate available for > 10 people.
Accessibility

---
Accessible for self-propelled wheelchairs
Musée d'Histoire de l'Enseignement Vétérinaire de Lyon
1 avenue Bourgelat - 69280 Marcy-l'Étoile