Let's head for La Croix-Rousse, a very industrious hill, which was once the silk workers' district.
Along with her husband Philibert, Virginie Varenne runs the Maison des Canuts (Silk Workers' Centre) which they have both renovated together You enter through the shop, a bright area featuring an architectural style characteristic of the area with its high wooden ceilings. The white walls really bring out the sparking colours of the silk products. As a walking encyclopaedia on the Lyon silk trade, Virginie Varenne devotes all of her time and energy to sharing her passion for this industry with visitors and to sweeping away a few misconceptions!
Last updated date : 18/11/2022
All year round Opening hours on Tuesday, Wednesday, Thursday and Friday between 10 am and 1 pm and between 2 pm and 6 pm. On Saturday between 10 am and 6 pm.
Maison des Canuts 10/12 rue d'Ivry - 69004 Lyon 4ème
How would you describe the Maison des Canuts?
As both a museum and a workshop, the Maison des Canuts shares and continues the proud history of silk making in Lyon, from its origins through to the present day, with its exhibition, guided tours and weaving demonstrations in the workshop using antique wooden looms. Visitors to the centre can admire a magnificent Jacquard loom and numerous instruments and accessories used in silk making including reels, spools and shuttles, in addition to silk yarn of all colours, antique silkwear, trimmings, documents and videos on the history and social contribution of the silk workers. Not forgetting of course a look at the area's textile industry today in the 21st century.
One of the great benefits of this centre is that we succeed in giving the visitor a complete overview of five centuries of silk making, covering the historical, artistic, technical and social aspects. Here, the visitor really get a chance to see just how Lyon has been shaped by the history of its textile industry including the city's architecture, in addition to its economic, humanist and social development, marked by the silk workers' revolt and its outcome. This subject, which is still a topical one, gives us food for thought for the future. We have also created a new area dealing with the life cycle of a silkworm, taking the form of video which is very popular with children. The kids are given a cocoon to keep at the end of their visit.
Tell us about the shop?
The shop forms part of the overall presentation as it includes only products made here in the Rhône Alps region.
It's a showcase, demonstrating that the Rhône Alps is France's leading textile region and has been for the last five centuries!
We propose a range of scarves, stoles, ties, masks and accessories, in addition to trimmings and woven pictures, creative leisure activities (trimmings, etc.) and silk-based cosmetics, postcards and books.
In short, items for every taste and to suit every pocket!
Demonstrations are given during guided tours.
History of the Canut silk-workers, and the human, social and architectural history of the Croix-Rousse.
Guided tours from Tuesday to Saturday, 11 am to 3.30 pm.
Useful tips
Openings

---
All year round
Opening hours on Tuesday, Wednesday, Thursday and Friday between 10 am and 1 pm and between 2 pm and 6 pm. On Saturday between 10 am and 6 pm.
Closed exceptionally on January 1st, Easter Monday, Feast of the Ascension, Whit Monday, May 1st, May 8th, July 14th, August 15th, November 1st, November 11th and December 25th.
Prices

---
Full price: 9 €
Adult: 9 €
Child: 0 €
Student: 1 to 6 €.

Free entry for children < 11 years.
Group rate available for > 10 people.
Accessibility

---
Mental disability
Accessible for wheelchairs with assistance
Reserved space 330 cm wide < 20 m from the site
WC + grab handle + adequate space to move
Additional information

---
The presentation of the health pass is mandatory.
Maison des Canuts
10/12 rue d'Ivry - 69004 Lyon 4ème
You like it? You might also enjoy...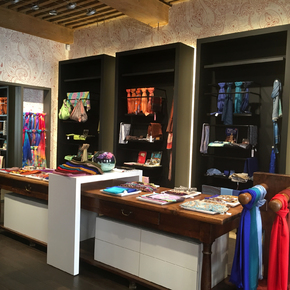 Philéone is the signature of a collection of elegant, environmentally friendly men's and women's fashion accessories. From design to manufacture, the...