Based in Lyon in 1921, the Franco-Chinese Institute was the first Chinese university outside China. Symbol of Sino-Lyonnaise relationship, the New Franco-Chinese Institute is today an exchange platform for the promotion of heritage and Chinese culture.
Last updated date : 13/10/2021
Open from Tue. to Sat.: 10 am-6 pm. Closed on bank hols.
French and Chinese New Institute of Lyon Fort Saint Irénée 2 rue Soeur Bouvier - 69005 Lyon 5ème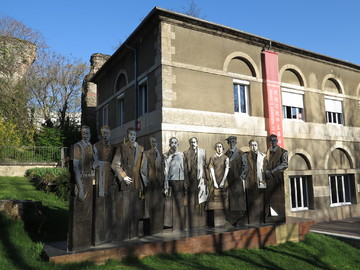 From 1921 to 1946, 473 students learned talents in different domains, and upon their return home, they contributed to the construction of chinese society. Included are Dai Wangshu, Yu Binglie, Zheng Dazhang, among many more. Permanent exhibition showcases these talents and what they achieved upon their return to China.

The Institute aims to be a platform for multidisciplinary exchanges to promote both the history and Chinese culture.
Useful tips
Openings

---
Open from Tue. to Sat.: 10 am-6 pm. Closed on bank hols.
Prices

---
Adult: 5 €. Group adults: 2.50 €
Free entry for children < 12 years, the students.
French and Chinese New Institute of Lyon
Fort Saint Irénée 2 rue Soeur Bouvier - 69005 Lyon 5ème