The museum is dedicated to aeronautics and space created by an aviation enthusiasts association. The materials are presented by trained guides.
Last updated date : 17/07/2021
From 01/01 to 31/12 between 2 pm and 6 pm.
Closed Monday and Tuesday.
Aircraft Museum Clément Ader
Parc de loisirs Rue Nungesser et Coli - 69960 Corbas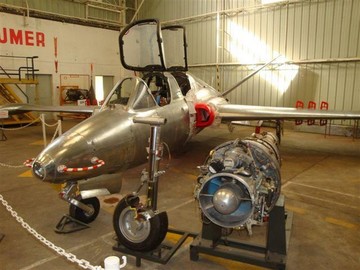 From the replica of the 1st plane that flew over Lyon in 1908 to the Mirage 2000, acting as the sky police, discover the richness of an aviation heritage. A Mirage IV, whose exemplary restoration allowed classification as a historical monument, is presented, accompanied by many military and civilian aircraft as well as a collection of "Concorde" jet engines. Passionate guides accompany you for an entertaining visit lasting about two hours, during which you can access the cockpit of fighter jets (Jaguar and Mirage 2000).
Useful tips
Openings

---
From 01/01 to 31/12 between 2 pm and 6 pm.
Closed Monday and Tuesday.
Closed exceptionally on January 1st, Easter Monday, Whit Monday, May 1st and December 25th.
Prices

---
Adult: 7 €
Child: 3 € (from 8 to 13 years old)
Student: 5 € (from 14 to 17 years old and students).

Free entry for children < 8 years.

Groups and Schools: package on request.
Accessibility

---
Accessible for self-propelled wheelchairs
Aircraft Museum Clément Ader
Parc de loisirs Rue Nungesser et Coli - 69960 Corbas