Founded in 1830, "quality throughout the years" is the watchword of this venerable Lyonnais company specialising in knives, brushes, scissors and traditional shaving equipment. A wide choice, expert advice and a friendly welcome await you.
Last updated date : 02/04/2021
Open on Mon.: 2 PM-7 PM from Tue. to Sat.: 10 AM-7 PM. Closed on bank holidays.
Cutlery Brossard 65-67 passage de l'Argue - 69002 Lyon 2ème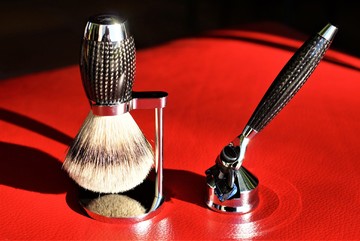 Don't miss this Lyon-based company founded in 1830, at the same time as the Passage de l'Argue was created.
It boasts an incomparable range of traditional shaving implements:
- Shaving brushes assembled by hand in France (Plisson - Brossard)
- Mach3 and Fusion razors (Plisson - Mühle)
- Straight razors (Solingen) and leather strops
- Safety razors (Merkur - Gentleman Barbier)
- Shaving creams and soaps (Crabtree&Evelyn - Taylor - Osma)
A range of hand-assembled hair, bath, nail and clothes brushes (Isinis - Mason Pearson) and a choice that's unique in France.

French quality magnifying mirrors by Arpin and Brot are sure to appeal to the more exacting customers thanks to the quality of their reflection and aesthetics.

Manicure, sewing and hairdressing scissors by Nogent and Solingen, in pouches or sold separately, selected for their perfect cutting qualities and the possibility of having them sharpened, a service also ensured on site.
Cutlery developed over three generations thanks to the company's sound knowledge of French craftsmanship, and a range of pocket knives:

It is Lyon's approved agent for "La Forge de Laguiole" products - Authentic Laguiole knives
- Regional knives: Nontron, Thiers, Opinel, etc.
- Damascus Art Knives and unique "must see" items
- Technical knives: Benchmade, Kershaw, Böker, etc.
- Leisure activity knives: the real Swiss Victorinox knife and Leatherman pincher tools
- Kitchen knives for chefs and enthusiasts with a range of high quality European and Japanese knives (Zwilling, Solingen Germany - Miyabi, Global, Kai, Japan).
This is a company well worth discovering for the atmosphere of a truly traditional store, the passion of which transpires through its welcome, quality and skill.
Useful tips
Openings

---
Open on Mon.: 2 PM-7 PM, from Tue. to Sat.: 10 AM-7 PM. Closed on bank holidays.
Accessibility

---
Accessible for self-propelled wheelchairs
Cutlery Brossard
65-67 passage de l'Argue - 69002 Lyon 2ème