The Renault Trucks Plant
Did you know that a truck engine weighs over 600 kg and requires 6 hours of work by humans and robots?
Last updated date : 15/06/2022
Usine Renault Trucks
402 avenue Charles de Gaulle Porte A – Halle A2 - 69200 Vénissieux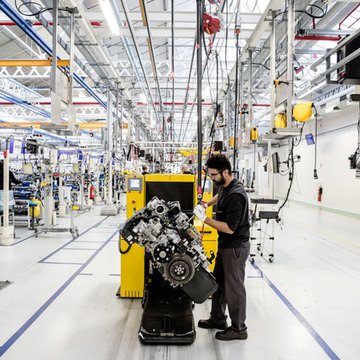 While the first internal combustion engines were built at the end of the 19th century, Marius Berliet, an enthusiastic self-taught mechanic, built the first model of his very own engine in 1894 in Lyon.
More than 120 years later, the Renault Trucks plant continues to make steady progress in terms of performance and its ability to meet the requirements of modern-day society, building engines for trucks, buses, construction equipment, boats and industrial machines, all of which comply with the most stringent antipollution standards.

You're sure to be amazed.

Duration of the visit : 2h. Please ensure you arrive 10 minutes before the tour commences.
Useful tips
Openings

---
Prices

---
Adult: 15 €, Child: 8 €, Student: 8 €.


Free with Lyon City Card.
Accessibility

---
Accessible for wheelchairs with assistance
Usine Renault Trucks
402 avenue Charles de Gaulle Porte A – Halle A2 - 69200 Vénissieux