The Go Captain concept: a protected, welcoming area on the banks of the Saône to share the river and discover water leisure activities, including boat rentals (with or without a licence), paddleboarding, canoeing and surfbiking.
Last updated date : 07/07/2022
All year round daily between 10 am and 9 pm.
Go Captain 829 chemin de la Plage - 69270 Rochetaillée-sur-Saône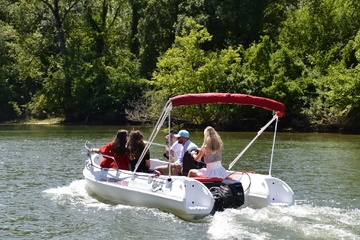 On the doorstep of Lyon, in a stunning setting, Go Captain offers a range of leisure activities on the waters of the Saône.

Seated on one of Go Captain's terraces, surrounded by greenery, beneath the shade of the trees that filter the sunshine spilling over the hills of the Monts d'Or, you can glimpse and hear the river running next to the town of Rochetaillée-sur-Saône.

You can set off from this little corner of paradise aboard one of the no-licence-required boats, to discover the secrets of Île Roy and Île Barbe, and even sail all the way to the old town of Lyon.

From April to September, you can also go for a paddleboarding or canoeing trip. After returning to the base, you can then enjoy a drink while watching the Saône flow by.

The terraces are available to hire for private functions and work events.
Useful tips
Openings

---
All year round, daily between 10 am and 9 pm.
Accessibility

---
Accessible for self-propelled wheelchairs
Go Captain
829 chemin de la Plage - 69270 Rochetaillée-sur-Saône