Nestling in the forest in the western part of Lyon, this park is a privileged site for all those who want to devote their day to nature. This centre devoted to birds of prey and wolves has opted for shows and activities that respect the animals.
Last updated date : 08/12/2022
From 17/12/2022 to 31/03/2023, daily. From 01/04 to 12/11/2023, daily.
Courzieu park, birds of prey and wolves 1865 route du parc - 69690 Courzieu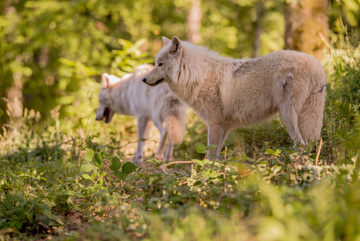 A day of high emotions in the great outdoors with four fascinating encounters: with wolves, birds of prey, owls and snails.

11.30 AM: Meet the wolves... All begins with the sound of howls echoing through the forest. Enjoy a unique opportunity to observe the behaviour of the pack as you come face-to-face with the wolves. A privileged few will be invited to venture into the territory of wolves: an experience that won't be easily forgotten.
2 and 4 PM: Flight of the birds of prey: eagles, falcons, kites and vultures soar through the air, gliding, performing acrobatics and nose-diving at breakneck speeds. Such aerial prowess can be witnessed thanks to the tradition of falconry: the birds and falconers work together to display their talent. A magnificent sight to behold!
AM + PM Slimy shells: the secrets of the snail revealed... a well-known creature, but it still manages to surprise people.

A walk in the 'valley of wolves', with a labyrinth, a wolf observation bridge and a house full of surprises for the wolves.

NEW : the marmots trail. Discover this funny animal with the zookeeper (2 show, morning and afternoon)
Fun nature trail: 'Nos amis les arbres vous parlent' (Our friends the trees speak to you). Children's games in the heart of the forest, including a wooden castle fortress and toboggans.

La Catiche, our log house, welcomes guests for lunch and teatime.
Picnics possible.
Useful tips
Openings

---
From 17/12/2022 to 31/03/2023, daily.

From 01/04 to 12/11/2023, daily.
Prices

---
From 17/12/2022 to 31/03/2023
Adult: 9 €
Child : 9 €.

From 01/04 to 12/11/2023
Adult: 17 €
Child : 13 €
Family pass: 56 €
Group adults: 13 €
Group children : 10 €.

Free entry for the drivers.
Child entry valid for 3 - 12 years.
Group rate available for > 20 people.
Accessibility

---
Accessible for wheelchairs with assistance
Courzieu park, birds of prey and wolves
1865 route du parc - 69690 Courzieu