Looking for a fun experience as a family or with friends? How about discovering the city while playing? All you need is a smartphone to explore Lyon through an Urban Escape Game, offering a chance to see the city in an original way as you solve puzzles.
Last updated date : 10/06/2022
All year round.
Coddy Place Bellecour - 69002 Lyon 2ème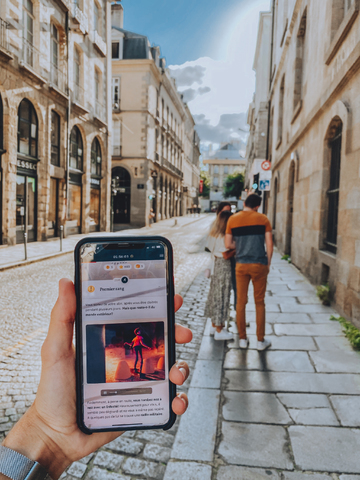 An Urban Escape Game has to be the most fun way to discover Lyon.

With nothing more than your smartphone, you can set off on an adventure as a team. Solve the puzzles and explore Lyon in an original way.

The urban puzzle-solving games designed by Coddy will lead you to Lyon's major attractions, as well as its more hidden-away, and even unusual places.

Lyon becomes your life-size game area, with puzzles that will test your powers of observation, cleverly designed routes and missions to be completed around the city centre.

Coddy offers Urban Escape Games, puzzle-solving games, treasure hunts and murder parties, using your smartphone's GPS technology, which will take you around the city as you attempt to unravel the mysteries.

In a team of two to six players, explore the city as you follow an immersive story from a choice of genres, including apocalyptic, Medieval, futuristic, detective, alchemist, and more. The Coddy app (with an integrated map and compass) will guide you as you search for points of interest where the puzzles are found. You will need to keep your eyes peeled as the answers could be hidden anywhere!

For a fun experience as a family, with friends, or colleagues, try one of the Urban Escape Games designed by Coddy. In terms of virus risks, this is also a safe option to explore the city, as you will only play with members of your team outdoors.
Useful tips
Openings

---
Accessibility

---
Accessible for self-propelled wheelchairs
Coddy
Place Bellecour - 69002 Lyon 2ème