Located in Vieux-Lyon (Lyon's old town), this branch of the Ninkasi brewery offers a chance to not only taste delicious craft beers, brewed just 40 km from Lyon, in Tarare, but to discover beer production secrets during zythology workshops and tastings.
Last updated date : 30/11/2022
All year round daily except on January 1st and December 25th.
Beerology classes and tasting workshops - Ninkasi Saint-Paul 5 rue Octavio Mey - 69005 Lyon 5ème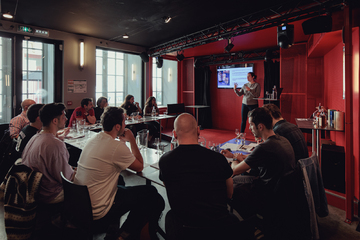 Ninkasi Saint-Paul is one of the 24 establishments operated by Ninkasi, which was created in Lyon in 1997. The concept combines beer, burgers and music served in the bars and local production of craft beers.
Over the past 25 years, the Ninkasi family has grown and established a reputation as an expert in the making of beer.

At Ninkasi Saint-Paul, zythology workshops and beer tasting sessions are regularly held to help curious visitors develop their knowledge of beer.

Are you looking for a fun, informal activity where you can explore the world of beers, one of the areas in which Lyon excels? Take part in our workshops devoted to all things beer.

The tasting session is run by one of the knowledgeable "beer ambassadors", who has received training from Cicerone® (beer service experts).

Zythology workshop: two-hour exploration of the history of beer, from the Middle Ages, including ingredients and production processes, various beer styles and tasting of a sample.

Tasting workshop: in this shorter workshop, the facilitator will introduce you to the main techniques in beer tasting, for a fun and educational experience.
Useful tips
Openings

---
All year round, daily except on January 1st and December 25th.
Accessibility

---
Accessible for self-propelled wheelchairs
Beerology classes and tasting workshops - Ninkasi Saint-Paul
5 rue Octavio Mey - 69005 Lyon 5ème