Is culture like jam?
To quote Didier Hallépée "Culture isn't like jam – it's like chocolate: a treat to be enjoyed and shared with friends!" So why choose? With us, you pair up activities. By combining fine food and cultural activities, you can enjoy and discover more.
In this case, food for thought takes on its full meaning!
6 matches
---
Ninkasi Tarare
Visit to a traditional craft brewery. A one-hour tour including a presentation of the company and a chance to discover the raw materials, production...
Lyon Food Tour
Explore this alternative district in a gourmet way! Go to discover this lively lyonnais neighborhood between murals paintings, traboules, street art...
Lyon Food Tour
Between traboules and gourmet breaks, accompanied by a local guide, go on a discovery of the unmissable historical district of Old Lyon and its...
Lyon Food Tour
The Temple of the Gastronomy Lyonnaise is a real treat for the eyes as for taste! Erik reveals the secrets of this unmissable place by enjoying the...
Let yourself be guided by Audrey, from Praline et Rosette and succumb to the gourmet temptation! On the menu: a walk through Lyon's Presqu'île...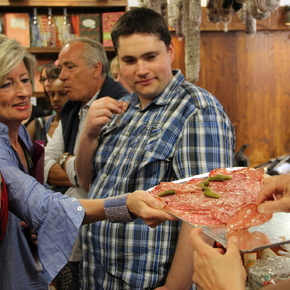 Sortie du métro Vieux-Lyon
When gastronomy become an art de vivre...