Village of Val de Saône, 15 km north of Lyon, on the left bank of the Saone, Fleurieu-sur-Saone is the land of adoption of the Guimet family.
Jean-Baptiste Guimet made many petrochemical discoveries, especially Bleu Outremer. Emile Guimet, his son, during trips to Japan, China and India, founded in Lyon the museum that bore his name.
Originally rural commune, Fleurieu-sur-Saone welcomed on Sunday the Lyonnais lovers of angling. His well-mastered development allowed him to keep his character and charm.
Under the protection of the "Madone", the hill that dominates the village offers many walks on the path of the Marinade or the Vallon du Ruisseau des Echets.
2 matches
---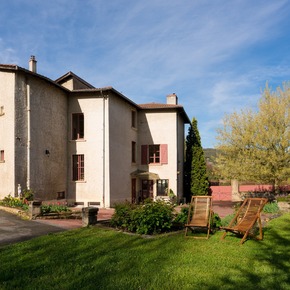 Guesthouse 15km from Lyon, beside the river Saône. Very easy access, near main roads (10 min.). 5 lovely guest rooms, tasteful décor, in traditional...
The church was built in 1871 out of yellow stone from Curis and Couzon. It belongs to the parish of St Christophe Les Deux Rives in the Saône valley.