This small village of the Monts d'Or, born from its separation with St Germain in 1785, offers an entertaining visit in the heart of an abundant nature.
Indeed, 70% of the municipality is in green zone, of which 70 ha classified.
The banks of the Thou, the banks of the Saone, as well as the high perched heritage of Curis-au-Mont d'Or offer real moments of relaxation.
For the leisures, the climbing walls managed by the French federation await climbing experts.
2 matches
---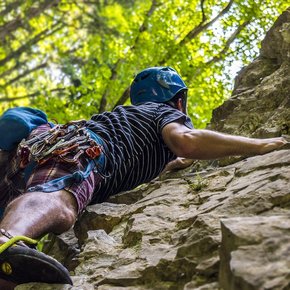 This natural climbing site, a 30m-high cliff, is a former limestone quarry redeveloped into a climbing centre. It features twenty or so routes...
Building began in 1821 and this "Roman"-style, yellow-stone building was inaugurated in 1823. In the 1960s, as sobriety was in fashion, the church was...