Between the Saône in the East and the Monts d'Or in the West, the village includes several neighborhoods each with their own identity.
North, facing Neuville, the old district of Villevert with shops and train station.
The town center, around the church and the medieval castle includes shops and public facilities of the town and the Saturday morning market.
Les Haut d'Albigny is a residential area and recent urbanization. Then the southern district (plain, cliffs, quarries) which brings together habitat and activities. There are still brownfields in this sector, but the city and the Metropole de Lyon have plans for future development.
Albigny is equipped with appropriate facilities and services: nursery, schools, school restaurant, extracurricular daycare, library, multipurpose room, house associations. Some thirty associations dynamically animate local life with cultural, sports, leisure or humanitarian activities.
A route with 18 heritage points identified by specific panels with QR codes allows a cultural walk.
3 matches
---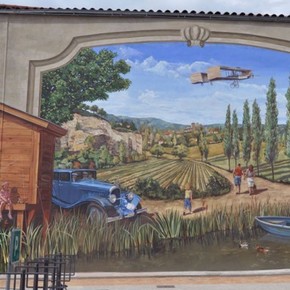 20 m x 5 m painted wall showing the aviation pioneers who lived in Albigny, such as the Gabriel brothers (1880-1973), Charles Voisin (1882-1912) and...
An L-shaped castle overlooking the Saône with a dungeon dating from 1184. This tower and the castle chapel were built by an archbishop: Renaud II de...