Diggers Chocolate Bar
When two baristas with a passion for delicious, authentic chocolate met, the chocolate bar Diggers was born. Our challenge? To amaze you with chocolate in its many and varied forms, from beans to bars, drinks and pastries.
Last updated date : 15/06/2019
Open from Tue. to Fri.: 9 AM-7 PM
on Sat. & Sun.: 10 AM-7 PM. Closed on Dec. 25th.
Diggers Chocolate Bar
6 rue Neuve - 69002 Lyon 2ème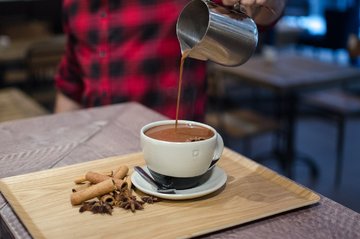 Diggers offers a truly delicious taste experience.

The story of Diggers began with two friends and baristas who share a passion for and love of authentic chocolate. It goes back to 2012, in a micro-kitchen, where we reminisced about our travels, meetings and culinary experiences. We recalled our first exceptional chocolate, in 2011, when the "Criollo" of Peru gave us a 72% dose of pleasure. We then learned that this chocolate from the region of Piura is made with the rarest beans.
We thought "what if this was the project of our lives?" To recreate the taste journey experienced with a simple chocolate bar. We were going to create the first "bean-to-bar" chocolate bar in Lyon.

The idea set us on course for an incredible journey. We set off to meet bean-to-bar chocolate artisans. Made with exceptional cocoa, each chocolate is linked to a unique terroir. Personal sensibilities make these chocolates an alternative to the standardisation of taste. With ethical concerns in mind, our producers promote artisanal and green production methods, which preserve the pure, noble character of the product. With a flattened ovoid shape, the cocoa bean measures 25 mm in length at most. It can be seen as the new "nugget" of modern gold panners. Like them, we have searched for the best chocolates from around the world. This rush for cocoa, the "brown gold", demands control of excellence from A to Z.

It is the culmination of years of research to design a unique place dedicated to chocolate. The chocolate bar Diggers serves a wide selection of chocolate drinks, specialty coffees, cold drinks, teas and infusions, and artisanal pastries, offering a variety of taste experiences.
In the shop, trust your instincts and allow yourself to be guided as you taste the fine chocolates on offer. These "aromatic gold mines" are bursting with sharp or bitter, and flowery or fruity fragrances.

Welcome to our shop. Your shop.
Useful tips
Openings

---
Open from Tue. to Fri.: 9 AM-7 PM, on Sat. & Sun.: 10 AM-7 PM. Closed on Dec. 25th.
Accessibility

---
Accessible for self-propelled wheelchairs
Diggers Chocolate Bar
6 rue Neuve - 69002 Lyon 2ème