Auditorium de Lyon
Music comes to the Auditoriumin a variety of forms and a complete freedom, to be enjoyed by one and all. At the heart of this musical venue, the Lyon National Orchestra, with its 103 musicians, makes music and Lyon flourish.
Last updated date : 03/03/2020
Open daily from 11 AM to 6 PM. Closed in Aug.
Auditorium de Lyon
Place Charles de Gaulle 149 rue Garibaldi - 69003 Lyon 3ème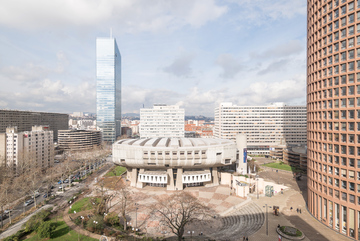 Ended there in Feb. 1975, by Henri POTIER, architect big price of Rome, chief architect of the Civil Buildings and National Palaces assisted by Charles DELFANTE, the Auditorium is renewed in 1993.

On the Place du Général de Gaulle, the "Monument of the Appeal of June 18" was inaugurated on 18 June 2001. The speech given by General on BBC radio in 1940 there is transcribed in full.
Useful tips
Openings

---
Open daily from 11 AM to 6 PM. Closed in Aug.
Accessibility

---
Mental disability
Accessible for self-propelled wheelchairs
Auditorium de Lyon
Place Charles de Gaulle 149 rue Garibaldi - 69003 Lyon 3ème