The Maison de la Danse
With its auditorium boasting a capacity of 1100 people, La Maison de la Danse has embraced dance of all forms and including all techniques, in addition to inviting some of the major choreographers of the 20th century and young contemporary artists.
Last updated date : 12/09/2018
Ticket office: from Mon. to Fri.: 11:45 am-6:45 pm.
The Maison de la Danse
8 avenue Jean Mermoz - 69008 Lyon 8ème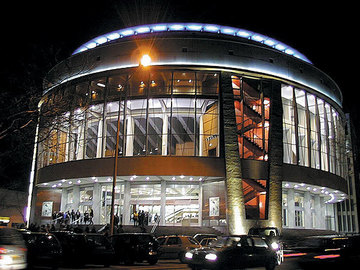 Since its installation, the Maison de la Danse company has made the Jorge Donn studio of 300 sqm available for rehearsals and residence for guest companies.
See more on this top tip in COLLECTOR
Collector's original visuals and voice have made it a big hit in Lyon. It offers locals a different view of their city: more modern, more urban, and even a little offbeat. In just a few years, this guide has become the repertoire of "places to be". It opens doors to somewhat secret worlds – just the way we like them in Lyon.
list Know more about Collector
Useful tips
Openings

---
Ticket office: from Mon. to Fri.: 11:45 am-6:45 pm.
Accessibility

---
Hearing disability
Mental disability
Accessible for self-propelled wheelchairs
Lift (80 x 130 cm) and door >= 77 cm
The Maison de la Danse
8 avenue Jean Mermoz - 69008 Lyon 8ème