Bar Villa Maïa
Located on the 1st floor of VILLA MAIA and fashioned from Saint Just glass, the Bar plays with light and transparency without ever losing sight of the city. Enjoying a cocktail at dusk becomes a unique moment.
Open daily from 5 pm to 1 am.
Bar Villa Maïa
8 rue Professeur Pierre Marion - 69005 Lyon 5ème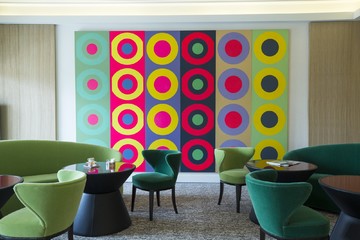 The Bar takes you to the realm of cocktails created especially for the hotel, but also for you thanks to the secret box imagined by the bartenders. Make your nose work and become an inventive bartender... a real olfactory adventure awaits you!

At the lovely season, the terrace, set on the garden designed by Louis Benech, offers a menu with summer scents and a light meal to be enjoyed among friends, with family for an enchanting parenthesis.
See more on this top tip in COLLECTOR
Collector's original visuals and voice have made it a big hit in Lyon. It offers locals a different view of their city: more modern, more urban, and even a little offbeat. In just a few years, this guide has become the repertoire of "places to be". It opens doors to somewhat secret worlds – just the way we like them in Lyon. The cover image is evidence enough, featuring the world of Nathalie Rives, bursting with personality, and her gallery.
list Know more about Collector
Useful tips
Openings
Open daily from 5 pm to 1 am.