Fresque végétale Lumière
Mural created by the Cité de la Création, unveiled on the 3rd October 2009. It represents the principal buildings which best characterise the Irigny region.
Fresque végétale Lumière
rue de l'Eglise - 69540 Irigny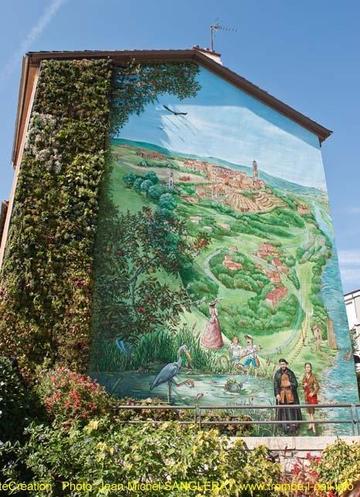 This mural depicts Montcorin Fort, the Croix du Lac, the Champvillard la Combe cultural centre, Saint Martin's chapel, Chateau Yvour, the Selettes Halt, Chateau Damette; but also images of the countryside: orchards, the river-banks of the Rhône, and local wildlife such as water spiders, frogs, herons, perch, catfish, dragonflies and sculpin-fish… and most importantly, three important figures at the bottom of the mural: the Abbé Pierre, Daisy Georges Martin and the Baroness Dorothée Petit.