Fresque Hommage à Tony Tollet
Mural composed of 5 vertically-aligned stars; the biggest representing the workshop of the Lyonnais painter Tony Tollet (1857-1953). Each of the four other stars was chosen to highlight a particular aspect of his life.
Fresque Hommage à Tony Tollet
7 rue Pareille face au mur des Lyonnais, rue de la Martinière - 69001 Lyon 1er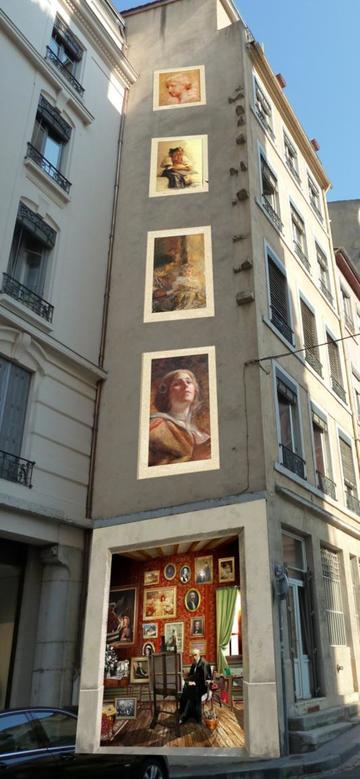 Unveiled 19th September 2012, at 7.30 PM.
Jean Jules Antoine Tollet was born November 6th, 1857, in Lyon, at 19 Rue Bourgelat, in the Ainay district.
During his five years of studying at the Lyon Ecole des Beaux-Arts (from 1873 to 1878), he distinguished himself with numerous prizes in the fields of figure painting and drawing, interior decoration and historical compositions. He was awarded the Grand Prize of Paris in 1879, the highest distinction awarded by the Ecole, allowing him to complete another three years of studies at the Paris Ecole des Beaux-Arts, where he stayed for 10 years.
Coming back to Lyon due to his mother's illness, he settled down in Lyon in 1889, and started painting in his studio, 19 Rue Bourgelat. From 1890 to 1920 he became teacher then director of municipal courses. His studio became a place of work, meetings, and artistic meetings.
He became President of the Lyonnais Society of Fine-Arts from 1923 to 1927 and President of the Academy of Sciences and Arts of Lyon from 1928 to 1929.
He was awarded a the Legion of Honour medal in 1925, before dying in Lyon in 1953, January 25th at 96 years of age.
Fresque Hommage à Tony Tollet