Fontaine Bartholdi
The fountain was completed in 1888. It weighs 360 tonnes, 21 tonnes of lead supported by a steel frame, 9 m wide, 4.85 m high and with a diameter of 15 m. The fountain shows France (Marianne) and the four rivers (the horses). In 2016, the fountain leaves the Place des Terreaux mid March during 16 months min. for restoration.
Fontaine Bartholdi
Place des Terreaux - 69001 Lyon 1er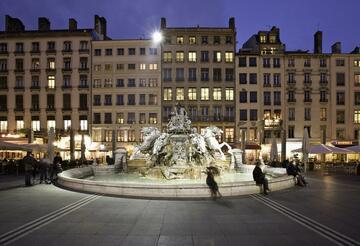 The fountain was finished in 1888. It represents France (Marianne) and 4 rivers (the horses).
Commissioned by the city of Bordeaux, it represents the "triumphal chariot of the Garonne." Having found it too expensive, it is the city of Lyon which acquired during his presentation at the 1889 International Exhibition Place Bellecour Installed in 1891, it moved in 1992 and listed building September 29, 1995 .
Planned restoration from 2013 to 2014, with dismantling and transportation shop.
Frédéric Bartholdi (1834-1904) also made the Statue of Liberty in New York and the Lion of Belfort.